1. The Dambulla Cave Temple- The largest temple complex in Sri Lanka
The most popular among the best places to visit in Sri Lanka is the Dambulla cave temple. It tops the Sri Lanka tourist destinations. The largest temple complex in Sri Lanka, its statues and paintings date back to 12th Century AD. The temple complex has five rooms of different sizes; all rooms have Buddha in a different position looking calm and peaceful. The temple is built on a black rocky mountain which serves as a nice contrast with the white walls of the temple. Don?t miss the view from the top. The temple can be easily accessed from both Colombo and Kandy.
2. Yala National Park- Among the top tourist attractions in Srilanka
Missing Yala National Park while Sri Lanka sightseeing might bring regret to wildlife lovers. It is home to a host of wildlife and birds ? you are bound to run into a group of elephants bathing in streams, tossing their trunks wildly or leopards nestling lazily on tree branches. You could opt for the safari drives or a nature trail among the thick green foliage of the forest. Some tourists also camp at Yala and enjoy barbeque under the stars. Yala is the perfect place to try your hand at wildlife photography. Getting to Yala National Park is quite simple. All you will have to do is drive down to the Park from Colombo. Another way is by taking a bus to Tissamaharama.
3. Arugam Bay- Turquoise heaven for adrenaline-junkies
Sri Lanka has a coastline of over 1600 km and is ideally suited for windsurfing, speed boating, and other water sports. Arugam Bay has azure skies and slanting coconut trees. If you are looking to surf in turquoise waters, Arugam Bay must be in your list of must-see tourist places in Sri Lanka. It is on the southeast coast around 320 km from Colombo. It is the ideal place to sip coconut water, take in the scent of jasmine and allow the southern sun to tan your skin. Besides Arugam bay, other beaches among best places to visit in Sri Lanka are Unawatuna ? in the South; and Tangalla ? again in the south around 195 km south of Colombo. How to get there? Colombo has an international airport and is strategically located. So if you fly to Colombo, you are pretty much in close proximity to the best beaches.
4. Sigiriya and Polonnaruwa- Ruggedness amidst the greenery
Sigiriya or the mount of remembrance is a World Heritage Site and one of the most stunning places to see in Sri Lanka. This giant formation of rock rises out of nowhere towering over everything in its vicinity. It is quite a climb to the top but once up there you will get to see a panoramic view of the nearby sights and the Sigiriya fort. The rock fortress is a slice of history perched on a rock and is really worth a visit. Not much is heard and said about Polonnaruwa, but this ancient city is no less than the Petra of the south. A gem among Sri Lanka tourist attractions, this ancient ruined city stands amidst its erstwhile sturdy columns and architecture. The best way to explore this ancient city is to hire a bike and zoom around the ruins. The site is well maintained and is a telling example of Sri Lanka?s history and culture. Polonnaruwa can be easily accessed via Sigiriya. You can take a tuk-tuk or a bus from Sigiriya. Or you can take a bus from Dambulla to Polonnaruwa.
5. Galle- A 16th century marvel
Galle is an important city in Sri Lanka and is a one-stop destination wherein you can take in all sights and sounds. One of the best places to visit in Sri Lanka is the Galle Fort. The Galle Fort area has wide cobblestoned roads and a number of eateries and cafes. Try and catch the sunset while you are there. There are a number of trinket shops and galleries that you can visit. Another picturesque destination for sightseeing in Sri Lanka is the Japanese Peace Pagoda. Quite close to the Unawatuna beach, it is a white dome of serenity. Best Hotels to Stay: Jetwing Lighthouse, Amangalla, Tamarind Hill, Apa Villa Thalpe, and The Fortress
6. Jaffna- Peep into the past
Although a bit crowded, the temple Nallur Kovil is a nice pick among the best places to see in Sri Lanka. Another place of interest is the Jaffna Fort. This fort is in the center of the city and is a tourist hub. If you?re in Jaffna, you cannot miss the Nagadipa Purana Vihara, the temple can be accessed by boat. One of calmest among Sri Lanka tourist attractions, the temple is surreal and a wonderful place to meditate.
7. The Commonwealth War Cemetery at Kandy- Remembering the martyrs
Yes, a weird one in the list of best places to visit in Sri Lanka, the war cemetery is well maintained and the grounds are well kept. Overall it is a very humbling experience. This cemetery is hard to find without a guide, but once you get there, it is worth the effor
8. Temple of Tooth at Kandy- Treat to the eyes and soul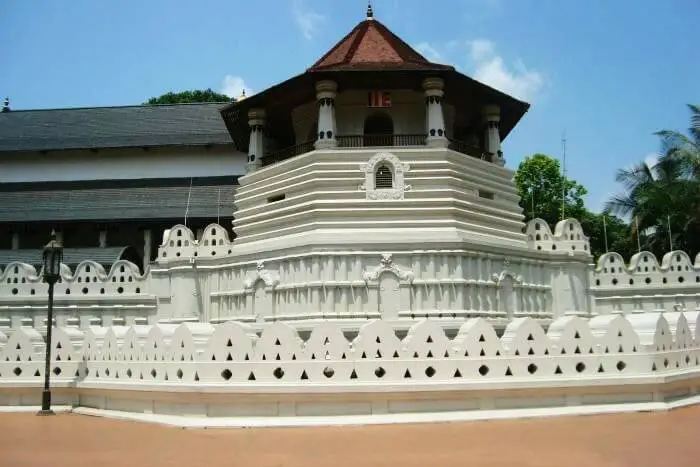 The temple of the tooth is again a popular one among tourist places in Sri Lanka. This temple in Kandy is iconic because of the history attached to it. With a quaint setup and interesting artifacts, this temple is worth a visit.
9. Nuwara Eliya- Getting closer to pristine nature
Nuwara Eliya is most famous for its tea gardens and scenery. With misty clouds, lush green sloping hills and a train that looks that it has come out of the Harry Potter films, Nuwara Eliya is a hilly paradise and another great addition to Sri Lanka?s tourist attractions.
10. Trincomalee- An unmissable beach getaway
Trincomalee, among many similar Sri Lanka tourist spots, is blessed with a beautiful beach. If you are up for an underwater diving tour, then SLDT (Sri Lanka Diving Tours) will give you the best experience. Besides water sports, there are also many temples and beaches in Trincomalee. There?s also a war cemetery which is surrounded by lush gardens, which makes it one of the best places to see in Sri Lanka.