1. Phang Nga Bay
A seductive and angelic bay flanked by Phuket, Phang Nga and Krabi, Phang Nga Bay is one of most scenic places to visit in Thailand. Here, the only thing you will feel like doing is to dive into the emerald-green water. Phang Nga Bay is a mere 95 kilometres from the aforementioned places and has a popular island called Khao Phing Kan also known as James Bond Island (as some part of the Bond movie, The Man with the Golden Gun was shot here). One of the prominent scenes in the movie showed a glimpse of a sea stack called Ko Tapu, which now is quite famous amongst tourism. At the bay other attractions to see include aquatic grottoes, limestone caves where you can even kayak and explore the clastic rock ceilings.
2. Grand Palace, Bangkok
As the sun sets, the golden pagodas illuminate the city of Bangkok. A visit to Thailand?s capital without paying a visit to the Grand Palace is similar to that of not visiting Taj Mahal when in Agra. Tucked in the walled-in complex, the Grand Palace is a famous attraction that draws tourists from every corner. Located on the bank of River Chao Phraya, the complex houses a series of halls, pavilions, wats and other buildings intermixed with sprawlinglawns, impressive courtyards and lustrous gardens. It offers a picturesque setting, perfect to take stunning photographs. The famous attraction in the vicinity is the Temple of the Emerald Buddha, it is located to the left as soon as you enter from the main Visetchaisri Gate.
3. Ayutthaya Historical Park, Ayutthaya
Ayutthaya Historical Park displays the ruins of once the largest cities in the world, Ayutthaya. What?s so interesting about this place is that it displays brilliant examples of Thai art and today, a section of this historical site is under UNESCO protection. The secured attractions in the Ayutthaya Historical Park include Wat Ratchaburana, Wat Phra Sri Sanphet, Wat Mahathat, Wiharn Phra Mongkhon Bopit and Wat Phra Ram. Out of which, the famous place is Wat Mahathat, the main attraction here is the head of Buddha that protrudesout from the branches of a tree, this probably is the most photographed object in the park along with Wat Yai Chai Mongkol. Nonetheless, this restored city allows the visitors to experience a wide-range of Thai architectural styles enclosed with an array of fossils and wats giving an eclectic mix of feels.
4. Similan Islands, Phang Nga Province
The postcard perfect place of Thailand, Similan Islands, has a group of nine upwellings formed by hot magma and it is located off the coast of Phang Nga Province in southern Thailand. Every year, the island witnesses a melange of travellers and thrill seekers coming from all directions to partake in activities like diving and island hopping. These islands boasts its rich coral reefs and underwater rock formations that offer divers a fascinating experience. Two mostly visited sites by divers are the East of Eden and Elephant Head Rock. Similan Islands are best visited during March when the water is clear and air is calm, it is then you get to witness colourful species of fish wiggling their tail fins amid turquoise waters surrounding the Similan Islands.
5. Sukhothai Historical Park, Sukhothai
Sukhothai Historical Park is one of Thailand?s most fascinating world heritage sites, it consists of a large complex that houses the ruins of the Sukhothai Kingdom of the 13th and 14th century. This historical attraction is located in northern Thailand and its walled-in park has a wide collection of nearly 200 sets of remains of the past that include 26 temples, royal palaces, large lakes, interesting wats and statues etc. In addition, the visitors can also visit the Ramkhamhaeng National Museum and learn about the Sukhothai culture.
6. Damnoen Saduak Floating Market, Ratchaburi Province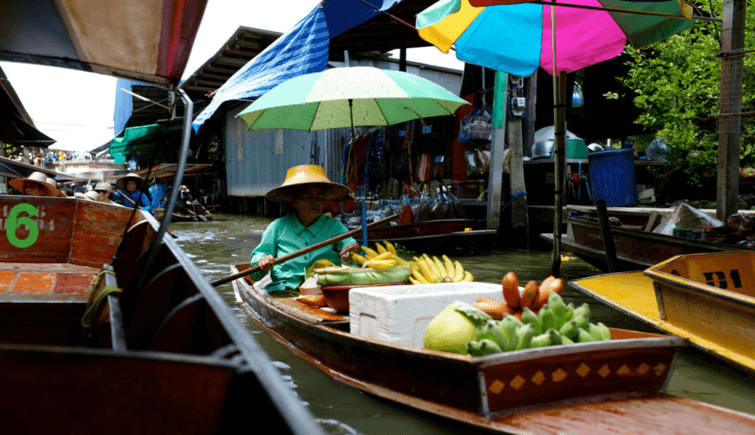 Damnoen Saduak Floating Market vibrates with utter confusion yet it is widely visited by many travellers because of its uniqueness and colourful ambience. Selling all sorts of fruits and vegetables, there is no rest for the sellers wearing a traditional mo hom shirt and a straw hat. The best way to explore this unique market is by hiring a boat taxi that will navigate you through a maze of narrow canals. Within Damnoen Saduak market, there are three sub markets, Ton Khem, Hia Kui and Khun Phitak out of which Ton Khem is the largest. It is filled with wondrous things, from delicious street food to traditional clothes and handmade ornaments. Damnoen Saduak Floating Market is definitely a must visit place and the best time to visit to witness the business hours are from 7am to 9am.
7. Chiang Rai White Temple, Chiang Rai
Chiang Rai White Temple or Wat Rong Khun allures visitors by its breathtaking architectural beauty. At first glance, your heart will race against time seeing this fully white structure; the exterior is so perfectly designed, it more or less appears to look like a frozen temple. It has a curious design symbolizing life and death. The premises has a bridge of ?the cycle of rebirth? and below you can notice outreaching hands. Likewise, there are many statues and symbols each having meaning of its own and in order to truly understand the depth of Wat Rong Khun, a visit here is a must.
8. Ko Phi Phi, Krabi Provence
The island does not limit itself to swimming in its tranquil water, sunbathe on the white sand beaches or dive under to witness colourful marine life, Ko Phi Phi has much to offer than just the usual. The island is 38 km southwest of Krabi, and is a destination that is always on top of every beach lovers? list. One of the main reasons to visit here is because of its lively nightlife. Lazying around is never an option here, as the party people flood the beach after the sundown. Here, you can also learn or partake in water activities like snorkeling, scuba diving and kayaking. Phi Phi is a group of islands and among the many; Ko Phi Phi Don is a permanent inhabitant island and is always crowded with locals and tourists. It is famous for stunning coral reefs, picturesque beaches and is also known as the location for the shooting of the movie, ?The Beach? in the year 2000.
9. Erawan National Park, Kanchanaburi Province
Encircled by mixed deciduous forests, Erawan National Park offers itself as an interestingplace to visit. This tourist attraction is located in western Thailand and is filled with many interesting sites to keep one occupied inside the premises. Apart from going for a sneak peek of the wild mammals, reptiles and birds, one famous attraction is the Erawan waterfalls, named after the three-headed white elephant in Hindu mythology. It is sited in the eastern side of the park. Other attractions you can find here are, Ta Duang Cave, Phartat Cave, Ta Duang Cave, Mi Cave, Wang Bah Dan Cave and Reua Cave. There are also various trekking trails in the park like Khao Hin Lan Pee Nature Trail and Mong Lay Dry Evergreen Forest Nature Trail.
10. Visit the Karens at the Long Neck Villages of Thailand
Thailand is home to various tribes and one such tribe who dwells on the borders of Myanmar, Kayah State, southern Shan State, Ayeyarwady Region, Tanintharyi Region, Bago Division and in western Thailand, is worth a visit. Karen is a tribal group best recognized for their elongated necks and a visit to one such long neck villages will offer quite a unique experience to every traveller. They wear traditional brass rings around their necks and due to the heavy metal their shoulders are caged down making their neck appear long. This is practiced by the ladies of the tribe and has been carried out from generations. The tribals believe that the brass ringscan protect the ladies wearing the neck piece if a tiger attacks. If you happen to be in Chiang Mai, pay a visit to the Baan Tong Luang Village, here, you can find five tribes exhibiting villages. You can buy handmade souvenirs, take multiple pictures with the tribal people and also interact with them.
11. Rock Climb at Railay
One of the most picturesque areas in the country, Railay is located in the Krabi Province. This place is everything to a thrill seeker, it has a collection of beautiful sea stacks, which are perfect for rock climbing. It has a number of rock climbing routes that you can venture, the feeling it offers is overwhelming, and thus, it calls all adventure thirsty travellers. Railay also boasts several other water activitiessuch as snorkeling and diving. One can also go for exploring a series of caves located around the island.